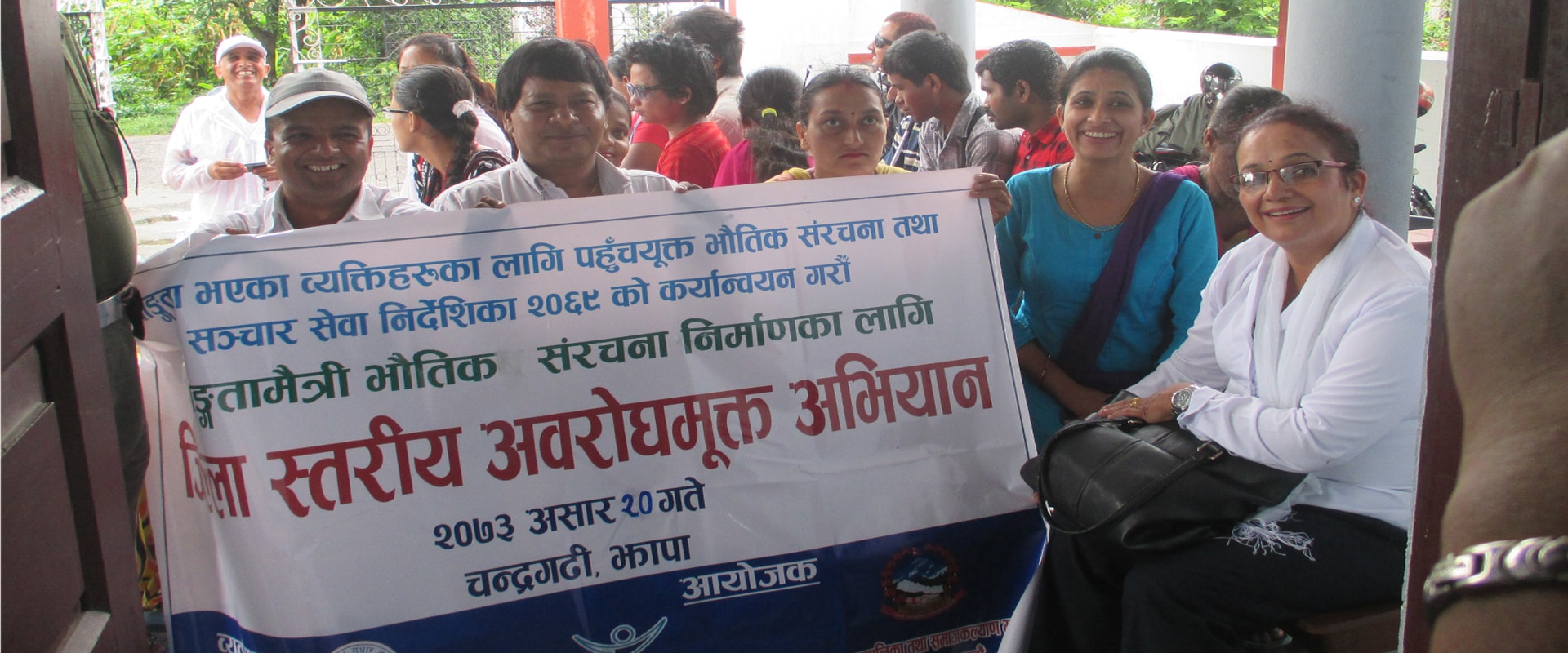 Samaj Sewa Sudhar Yuwa Sangh, Apanga Sahayog Samiti (Youth Association for Social Service Reform, Disabled Helping Committee- SSSYS) was established in 1996 at Mechinagar Municiplaity, Itabhatta; district Jhapa ; Nepal.
The main objective of the organization is to devote itself to work for and preserve the rights of the Persons With Disabilities (PWDs); therefore wideapread discussion was held as to why the orginasation was limited to work only in the area of the Municipality? Taking this into account and also the political and domestic armed conflict faced by the nation, it was the concluded to reform the orginasation and to develop a district level body in the changed scenerio, instead of the organization playing a role in limited and small geographical area.
As a result the first district convention held in 2003 and reorganized as SSSYS, Disabled Helping Committee, Jhapa, which included people from all Village Development Committes, Municipalitis of Jhapa district of all groups, gender and religions and representitives of various political parties and government / private orginations.
The excutive committee and the members of this orginasation compromise of people with diasblities of various kinds.
This is non-profitable and non-political social organization. It has been devoting and working actively in the field of ensuring and providing social services to serve PWDs after formally registering with District Administration Office in 2003 and affilitating to the National Federation of Disableled -Nepal (NFDN) and Social Welfare Council (SWC) in 2004. Its Registration Number in District Administration Office, Jhapa is 1056/060/061. Similarly, its affiliation number at Social Welfare Council, Kathmandu is 14832/061/062 and at National Federation of Disabled –Nepal, Kathmandu is 105/061/062.
To continue distribution of scholarship for the students with disabilities.
To keep the activities up, of distribution of supportive devices for various kinds of disabled persons as White Cane, Wheel Chair, Tri-cycle, Baishakhi (walking aid) etc.
Public awareness program for the right, welfare and security of the person with disabilities.
To advocate for the rights of person with disabilities.
To run vocational training to person with disabilities to make them self-relient.
To organize self-care group for leprocy infected people and expand helping program for their medical treatment and rehabilitation.
To run this residentail school for the children with disabilities more equiped with facilities and to develop it as a speacil school for the deaf.
To run a small financing program among the person with disabilities.
To upgrade its physical structure of present building and premises.
To expand the physiotherapy center more effective appointing a medical doctor and a physiotherapist and to provide additional health services to the persons with disability and to common people at the low price.
To run an ambulance service by the organization
To manage a bus for the student who go to community school from our residential school and who come to study here from their home.
To establish a fund of 10 million for sustainable source to run the residential school and physiotherapy center.